Feel like you've been paying more for every item you can find in your local food store during this Cornoavirus Pandemic? You're right and now reports are coming out to prove it.
The food at home index, compiled by the  U.S. Bureau of Labor Statistics rose 2.7% in April compared to March 2020, its sharpest one-month climb since February 1974. Prices in April are up 4.1% compared to April 2019. Prices are up pretty much in every category, according to the bureau. Examples include:
Poultry, meat and fish — up 4.5% in April compared to March
Cereal, baked goods and non-alcoholic beverages — up 2.7% in April compared to March
Demand has soared as people eat at home more than they ever did before the virus struck and supplies dwindle as processing plants close because of sick employees. Imported food supplies likely also are down. And we've yet to hear about deliveries breaking down because of sick truckers, expect some of that as this goes on too.
Don't expect the price picture to brighten anytime soon. People who are filling their shopping carts to the brim every time they go to a store likely are wasting a lot of that food because they aren't accustomed to planning meals to use everything before it goes bad. So they'll likely be back in stores making the same mistakes all over again and keeping demand for everything high — along with prices.
One of the few things I remember enjoying when I was sick as a child was drinking ginger ale to calm an upset stomach. I had terrible reactions to things like milk and aspirin as a child. Each sent my stomach reeling (you can imagine the details, I'll leave it at 'reeling.')
But then there was ginger ale, tasty, soothing, calming. And I had a crush on the White Rock Ginger Ale girl (New Yorkers will remember that brand).
My mother also believed in the healing powers of ginger ale, always calling for it when she was sick as "bring me the ginger."
So imagine my disappointment when I saw Ginger Ale Isn't the Key to Calming Your Stomach—Here's Why.
"One report finally sets the record straight, with the help of a leading gastroenterologist: ginger ale does not calm queasiness or aid other sickness symptoms. It's ginger that does this best, but ginger and ginger ale are not one in the same," reports Cooking Light. Continue reading "Say it ain't so — ginger ale doesn't calm stomachs????" →
Health & Wellness Coach Michelle Gillespie will be leading a healthy-eating tour of Whole Foods in north Evanston Tuesday, March 12 at 6:30 p.m., at a meeting of the North Suburban chapter of Mended Hearts. All are welcome at the free event.
"Those of us dealing with heart issues are almost inevitably told we have to change how we eat. But beyond that, there's a dizzying array of advice, often conflicting. Michelle will help us cut through all that with some real examples of how to translate advice into good shopping habits," says John N. frank, founder of the North Suburban Mended Hearts chapter.
Mended Hearts is a national support group for those dealing with heart and artery diseases. The meeting will be at the Whole Foods on Green Bay Road just north of Central Street in Evanston.
I recently subscribed to the Food Network Magazine (it was a Christmas special deal). I'm always scouring food magazines for no salt, no fat, no sugar recipes and thought I might find some in this successful title.
But alas I found little if anything I can eat on my heart-healthy diet. I should have suspected that I suppose.
I used to love watching Food Network cooking shows but have given that up as I came to realize its chefs are addicted to salt, fat and sugar in the recipes they tout.
The same is true of recipes in the magazine. There's a section called Weeknight Cooking, for example, that has 10-12 entree recipes an issue. These seems to be the only recipes in each issue that list nutrition content. Some aren't too bad when it comes to salt. One recipe for Chicken with Ginger Beet Noodles, for example, has 605 mgs of sodium a serving. But it also contains 20 grams of fat and 3 grams of saturated fat.
Continue reading

"Food Network Magazine: not exactly a no salt, no fat, no sugar recipe haven"
Protecting your teeth against the problems caused by sugar is something we are told to do as children, told to do as adults and told to do during old age.
It is something that we are told to do our whole life. And it is something that we need to do too. But just because it is something that we need to do, it doesn't mean we need live a life devoid of sugar. It doesn't mean we need cut sweet and sugary snacks eaten as a treat out of our diet completely. Continue reading "Protecting Your Teeth against Sugar, without Completely Cutting out Sweet Snacks" →
Over the years there have been many theories on what the best things are to consume for our general health and well-being. In this article are going to be some things that you probably didn't realize you should, or shouldn't be putting into your body.
We should all know by now that eating healthily, drinking plenty of water and exercise is the best way of keeping ourselves fit and healthy. However, with so many fad diets on the market these days, it's easy to become confused about whether your body is getting what it needs to be at it's best.
One of the latest trends in health and fitness includes taking vitamins and other supplements to promote weight loss, healthy skin and nails, and promotes the rate in which your hair grows. Did you know that you can get all of these promised results just by putting the right food into your body?
Many people argue the fact that they don't have enough time each day to eat the recommended portions of each food type. This might be true, but taking a vitamin tablet each day isn't going to fill you up either.
It may give you a portion of the vitamins you need, but then you will be more likely to binge out on other food later because you're hungry. That's not to say that vitamins don't work, as some people are required to take them for their health, but whenever possible, you should be trying to get the nutrients you need through food, not a supplement.
Try to eat at least five portions of fruit and vegetables each day to ensure that your body is getting the correct nutrients.
It's true that drinking water is the best source of hydration, but how clean is your water? Many water sources are contaminated with chemicals to make the water seem cleaner.
Water filtration systems are becoming increasingly popular these days because people are realising that their tap water alone, isn't doing them much good.
Consider investing in a water treatment system. You can read more about it here at ncwater.net. Here you will discover that not only can water be harmful to drink when it's not treated, but it can be harmful on your skin when you're bathing in it too.
If you suffer from skin conditions, the symptoms are often alleviated when the water is treated because the chemicals are no longer harming your skin.
Even though exercise is a must for keeping our bodies fit and limber, there is such thing as too much exercise. Too much physical activity can cause injuries like muscle strains, and joint pains.
Some may argue that exercise over time will alleviate these problems, but remember that everything should be done in moderation. Try changing it up so that you're doing a more gentle exercise a few times a week like yoga.
Remember, only doing one of these things isn't enough to keep you healthy. Try changing your lifestyle today to begin seeing some great results!
This post has been contributed by Ryan Gatt, it may contain affiliate links.
Cutting salt from your diet is a major part of what this blog is all about. Since trimming my salt intake after a 2012 angioplasty I've lost weight and gotten my blood pressure down.
But we still have salt in the house, for when guests ask for it. It seems to get little use otherwise, just taking up space in my pantry. So I enjoyed this video a friend sent me called 7 Salt Life Hacks You Should Know. Continue reading "Here's what to do with the salt you're not eating" →
The year is still young enough to look at food trend predictions for 2016. Euromonitor, an international research firm, came out with its top trends for this year and included a food section. It's expecting to see what it terms "Greener Food," by which it means,
"More of us will be eating greener. More people will care about cutting down on food waste in and beyond the home, try harder to avoid unhealthy food and overeating and be keener on more natural, local and seasonal food. More of us will consider cheaper food past its best before date and shop in retail chains selling it. And even fast food is getting greener," writes Euromonitor analyst Daphne Kasriel-Alexander.
People will accept uglier food than in the past, in other words blemished fruits and vegetables that Americans seem loathe to pick up in a supermarket, in order to cut food waste, she reasons. Continue reading "Greener food, local and natural all pop up in Euromonitor's food trends" →
Thank you everyone for an amazing year!
The WordPress.com stats helper monkeys prepared a 2015 annual report for this blog.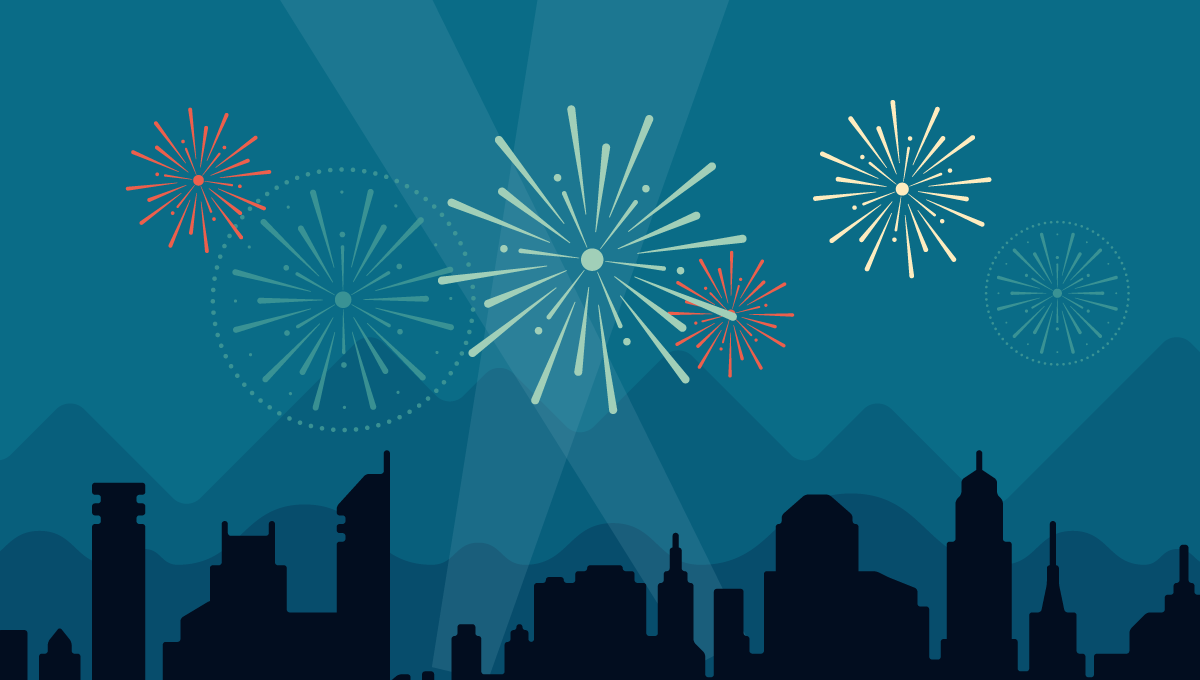 Here's an excerpt:
The concert hall at the Sydney Opera House holds 2,700 people. This blog was viewed about 57,000 times in 2015. If it were a concert at Sydney Opera House, it would take about 21 sold-out performances for that many people to see it.